Transcripts of Kershaw County Will Book AI (1781 to 1820)
Testators: James Archer, Ebenezer Bagwell, Humphrey Barnett, Samuel Boykin, William Clemmons, William Collins, Thomas Dixon, Charles Ghent, Joseph Kershaw, Daniel Kirkland, Derret Long, William Norris, Lemuel Perry, Sterling Pettaway, James Pickett, John Platt, John Williams, Drury Wyche and William Wyly.


Transcripts of Kershaw County Will Book D (1803)
: only 4 wills

Testators: Catharine Rhodes, Ann Roach, Anthony Seals, and Dillard Spradley.


Transcripts of Kershaw County Unrecorded Deeds (1789-1816)
Testators: William Beckham, Nicholas Bishop, Elizabeth Bracey, George Brown, Jonathan Bunckley, N. Center, Lewis Collins, James Crawford, Henry Croft, Edward Davis, Richard Davis, Isaac Dubose, Mary Egleton, Barwell Evans, William Forgueson, Alexander Goodall, Benjamin Haile and William Luyten.
Military
Kershaw Brigade (Civil War)
Maps
Map of Plantations in Lower Kershaw County
Indexes to probate Records
Will Book A (1770-1826)
Will Book N1 (1776-1833)
Unrecorded Wills (1789-1816)
Will Book A1 (1781-1820)
Will Book C
Will Book D (1803)
How the Bearded Iris Date American Farms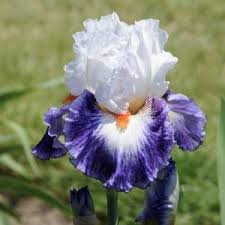 There are simply a lot of ways to determine the age of an old house or farm. As the seasons change and we take our sabbatical into the country, it is easy to identify the era encompassing the old farmhouse. How? Why by the flowers. Just as there are fads in clothing, automobiles, and the like, certain flowers were popular in the olden days. Take for example the bearded iris plant. Its first known popularity was when King Thutmose III conquered Syria and brought back the Iris rhizome to live forever in his garden. And during the 1600s the beautiful Iris was brought to American gardens. Other popular plants which emerged in almost every farm garden were narcissus (yellow daffodils) with their big ruffled trumpet.



Yesterday Newsletter . . . genealogy tips, historical articles et al

Join
---
Find the Occupation of your Ancestor
---
Old Equipment
---
South Carolina Marriage Settlements