Barnwell County South Carolina Wills, Marriages, Maps
Barnwell County was originally part of Orangeburg District, and in 1785 it was named Winton County. It was given its current name in 1800 when it was named for John Barnwell (1748-1800), a Revolutionary War Leader. Barnwell County has decreased in size over the years as new counties were created within its boundaries (Aiken in 1871, Bamberg in 1897, and Allendale in 1919). The South Carolina Railroad, which connected Charleston to Hamburg on the Savannah River, was built through this area, creating the towns of Blackville and Williston in the mid-nineteenth century.

Early settlers to Orangeburg District: Robert McCampbell, Gabriel Moffitt, W. H. Lacy, Nathaniel Perry, and others.
Transcripts of Miscellaneous Wills and Estates (1787-1798)
Testators: Abney, Nathaniel; Adams, William; Alexander, Raine ; Ashley, Nathaniel; Bassett, William; Bates, Andrew; Blitchendon, John; Bowie, James; Boyit, William; Brown, Tarlton, Estate, 1845; Browne, Charles; Bryant, John; Burnley, John; Bush, John; Cannon, Reddin; Carrel, Thomas; Chase, Peleg; Chitty, John; Colding, Ann; Collins, James; Cooper, Nicholas; Crossle, William; Davis, James; Dillard, Barbara; Duglas, John; Dyckes, Isaac; Edward, David; Evoritt, William; Filput, Thomas; Fitts, John; Foster,Benjamin;Genkins,Elizabeth; Hankinson, Robert; Hargroves, Mary; Harley, Joseph; Hayes, Joseph; Heath, Benjamin; Henley, John; Hicks, Christopher; Huffman, Solomon; Jackson, James, Sr.; Johnson, William; Kirkland, Benjamin; Kirkland, Edward; Knucks, Thomas; Latham, George; Lee, Robert; Long, Levi; Matkinberhide, Martin; McNeely, Patrick; Moody, James; Moore, William; Myfser, John; Newman, Richard; Newman, William; Nobles, Nicholas; Odom, Thames; Parkinson, John; Platts, John ; Richards, James; Roberts, James; Robison, George; Rofe, John; Scarbrough, William; Shaw, Thomas; Smith, Stephen; Southwell, Edward; Stallings, James; Steed, Charles; Stivender, Avrehart; Taylor, John ; Thomas, Jacob; Thompson, John; Tindal, John; Touchstone, Fred, Sr.; Treadway, Richard; Turner, John; Vince, Joseph; Walker, George; Williams, John; Wood, John
Index to Barnwell County Wills (1787-1826)
Index to Barnville County Wills (1787-1856)
Barnwell County Marriages
Barnwell County Wills (abstracted) 1778-1810
Barnwell County Wills (abstracted) 1811-1820
Barnwell County Wills (abstracted) 1821-1840
Barnwell County Wills (abstracted) 1841-1856
1825 Map of Barnwell District
God's Acre Healing Springs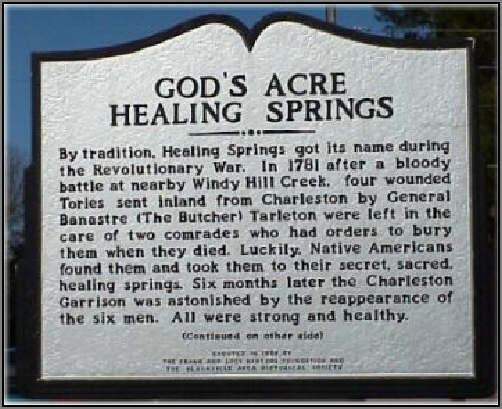 By tradition, Healing Springs got its name during the Revolutionary War. The springs were first owned by Indians in the region who eventually sold them to Nathaniel Walker who paid for them in corn. The story goes that after the battle of Windy Hill Creek in 1781, four wounded Tories were sent inland from Charleston by General Banastre Tarleton, known as " the Butcher." and left in the care of two comrades who had orders to bury them when they died. However, they were found by some Indians and taken to their sacred healing springs. Six months later, the six men reappeared and shocked the Charleston garrison when they were discovered healthy. The name the Springs was supposedly named after the two Tories were healed.
---
1914 Haynes Roadster
---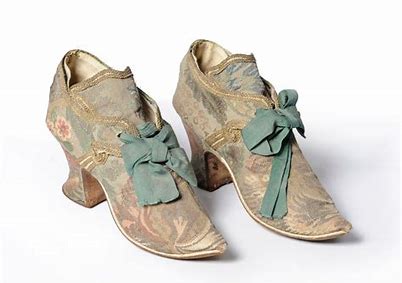 Yesterday Newsletter

Featuring stories of the past that you will treasure!